Chef's Note: Hey, it's our one-year anniversary here at Superheroes Eating Food! To be honest, I never expected for it to go on for so long. And – it's okay to be honest – neither did you.
When I first started this very important scholarly endeavor, I was looking for something to take my mind off the pandemic, something I could turn to when the news of the world got to be too much. What would be the perfect distraction?
Since being a kid, there is one thing I have always enjoyed doing: finding someplace quiet where I could kick back to read a stack of comics. What made it even better was having a nice snack to go along with it. When I was young, it was usually an English muffin pizza along with some Hi-C.
Nowadays, it's generally a dram or two of some nice Scotch… and an English muffin pizza. Some things change, and some stay very much the same.
When I realized I had already perfected this perfect distraction with a lifetime of practice, it became clear what my pandemic project would be. Finally a reason to use my degree in Comic Book Food Archaeology!
So that's how this little piece of interweb whimsy came to be. I'm not sure if anyone other than myself has enjoyed or found interest in it. Still, it continues to provoke my interest and enjoyment, and what more does a whimsy need really?
To celebrate this most auspicious and unexpected anniversary, let us partake of a smorgasbord of Spider-Man and hot dog scenes!
Written by Jean Thomas
Artwork by Win Mortimer
Inks by Mike Esposito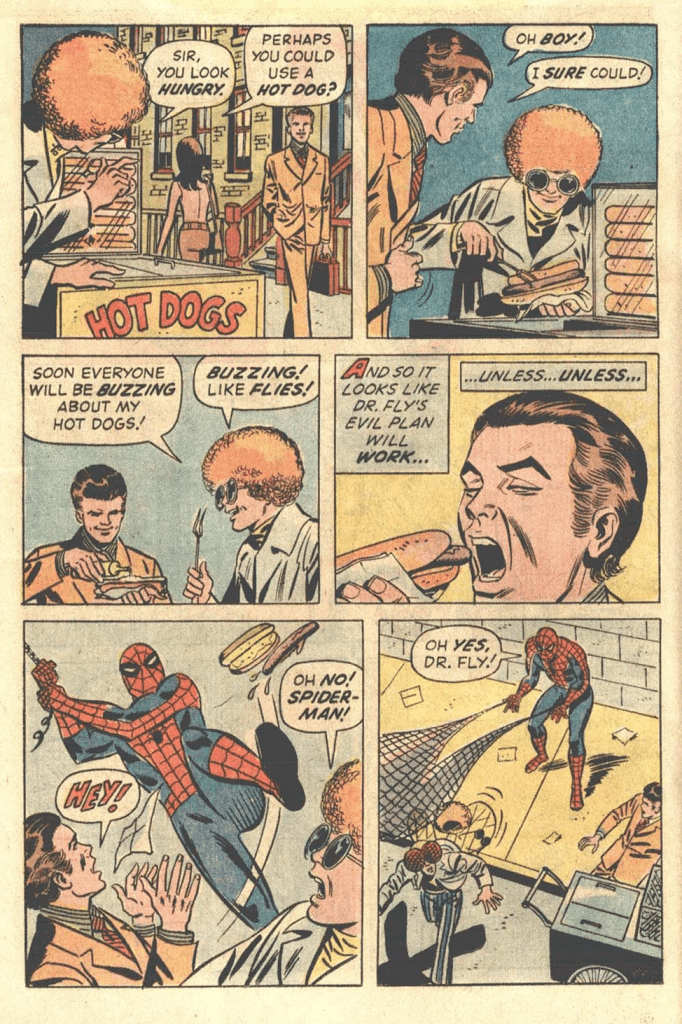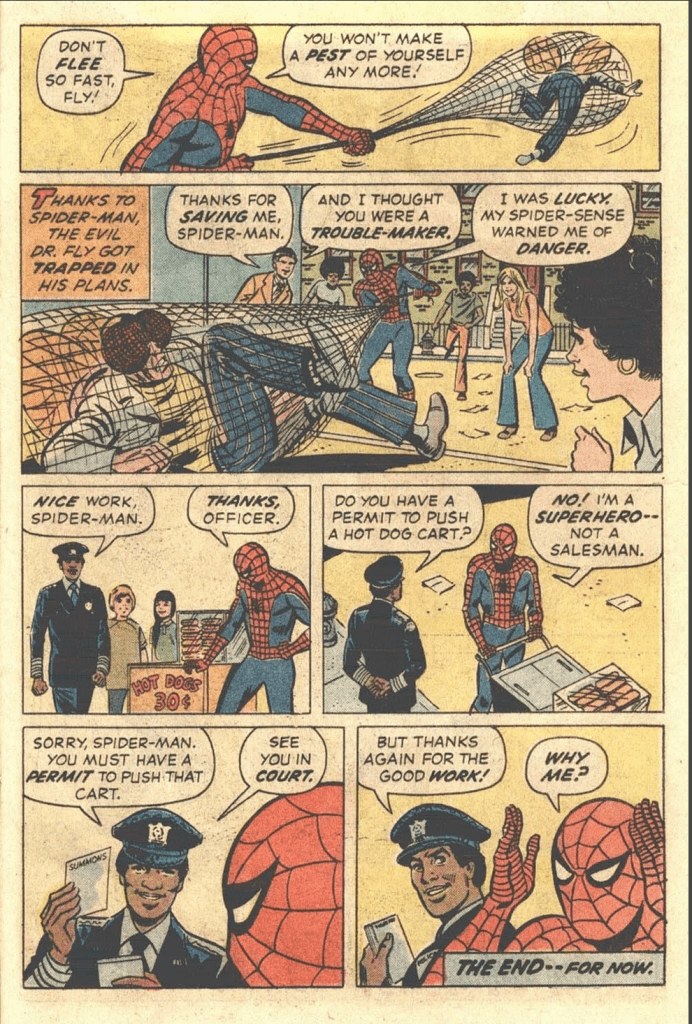 Chef's Note: Weaponizing hot dogs with an insect potion? That is pretty much the definition of dastardly – after all, who could resist? Dr. Fly is obviously a disturbed individual who should not be allowed to operate a food cart.
Speaking of which, I'm no legal expert, but I'm pretty sure that the citation Peter received would not hold up in court. Still, it was pretty petty of Officer Friendly to issue it in the first place.
Luckily, as we know, action is Peter's real reward.
---
Written by Len Wein
Artwork by Ross Andru
Inks by Mike Esposito, Colors by Glynis Wein

Chef's Note:  Yet another example of a superhero stealing food: Peter orders MJ a frank with everything and then goes ahead and eats it himself. MJ deserves better, Peter!
Chef's Note:  Nathan's Famous has been serving up world famous frankfurters on Coney Island since 1916!
---
Written by Gerry Conway
Artwork by Sal Buscema
Colors by Bob Sharen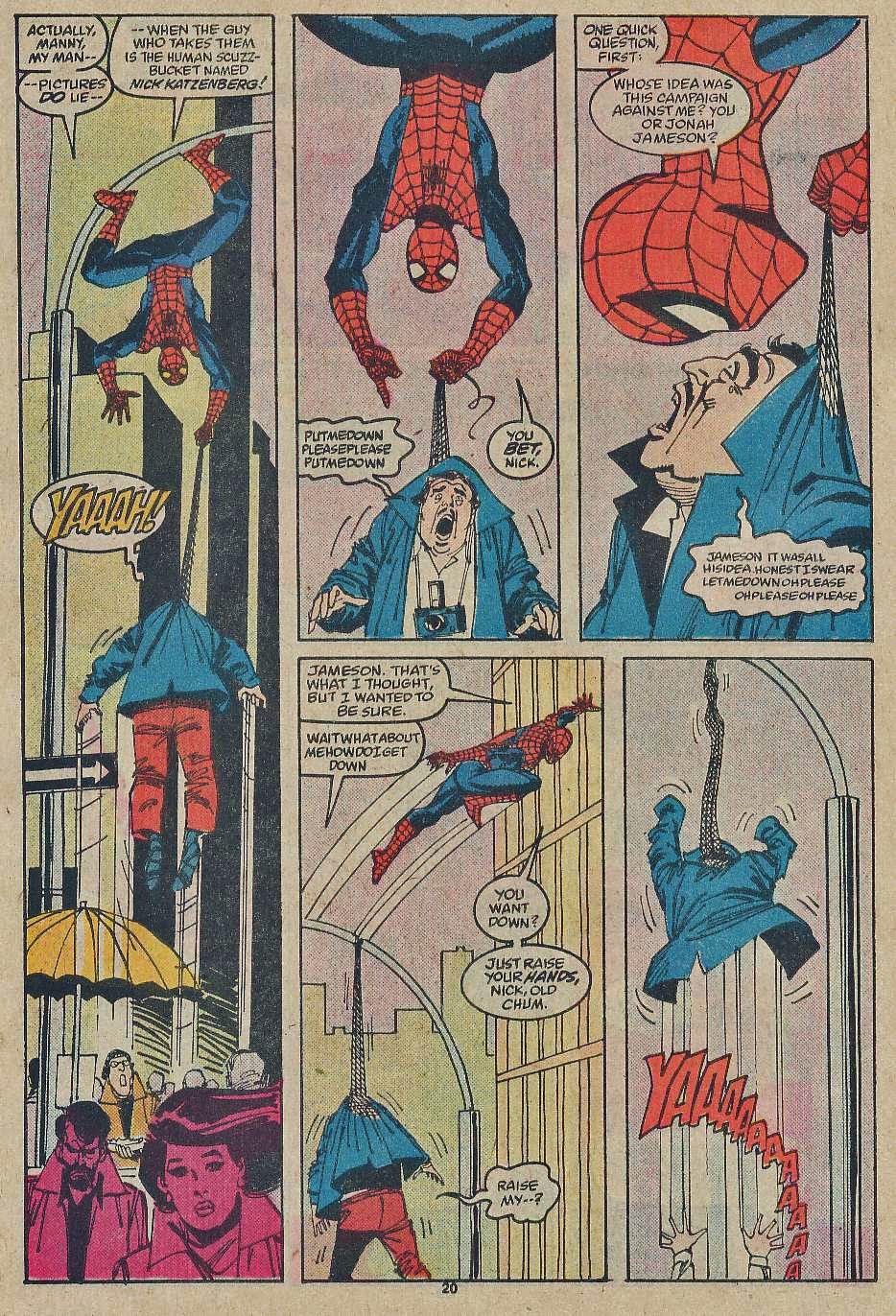 Chef's Note: This is not an example of superhero food theft, per se. But there's no arguing that Peter does ruin this man's lunch. And cause him to litter – chili pepper relish all over the sidewalk!
Chef's Note: Look at the size of that hot dog! Must be a foot-long, a popular NY choice. Quite a deal for $1.50.
As a 21-year-old, Turco envisioned starting a hot dog stand that would bring more people down to the Sheridan Park area. His father suggested he offer something different. Louie's answer: Give them more.

But nobody had heard of a foot-long hot dog in 1951, and Louie had trouble convincing local meat-packing companies to make them for his new venture. After futile visits to several companies, Turco went to the former High Grade Meat Packing Co. on Washington Street where the head of production agreed to take a chance on a new product.
---
Written by Gerry Conway
Artwork by Alex Saviuk
Inks by Keith Williams, Colors by Bob Sharen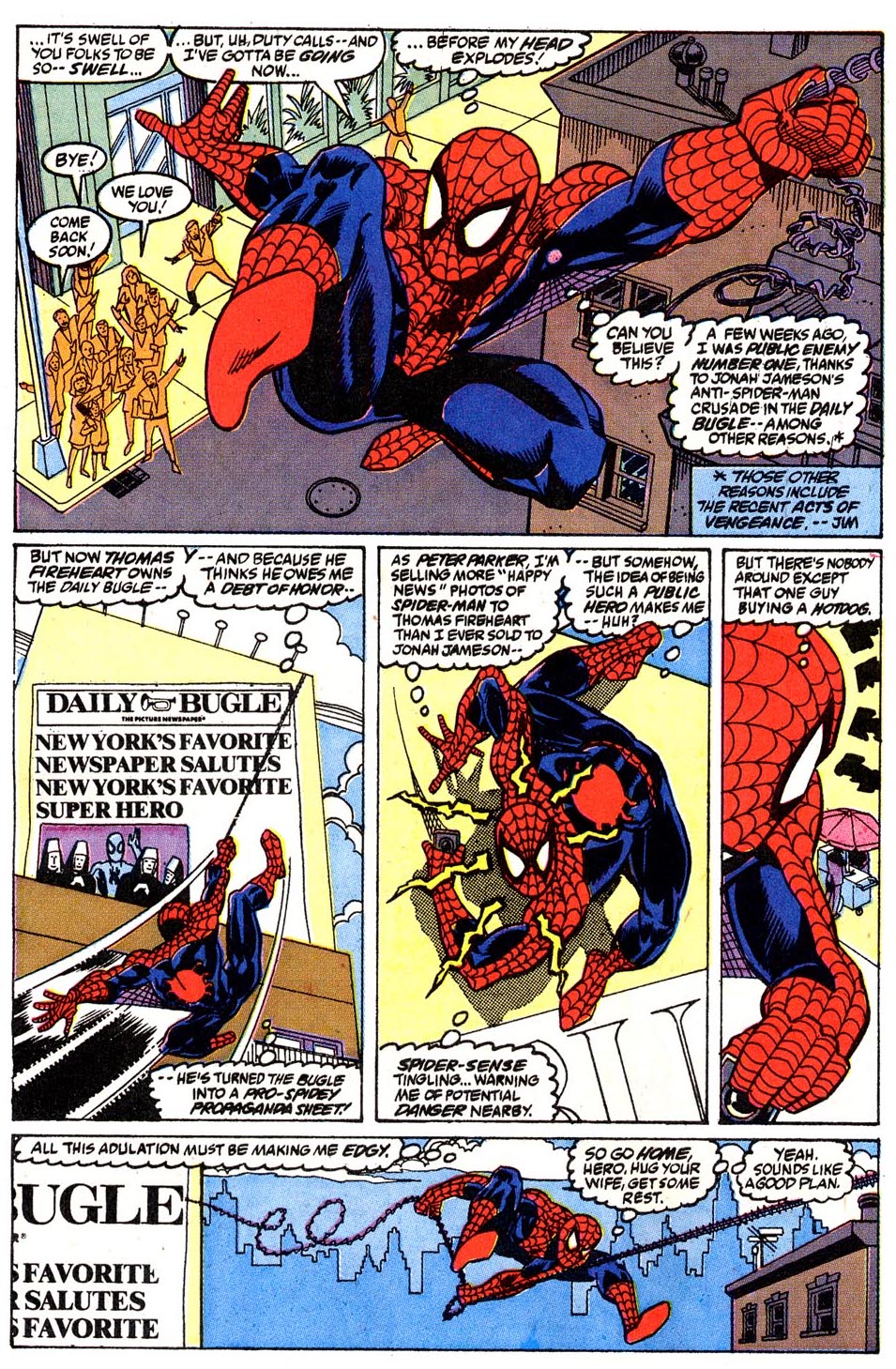 Chef's Note:  Peter might be a smart guy in terms of science, but he isn't always that swift where inductive reasoning is concerned –
But there's nobody around except that guy buying a hot dog.
C'mon, Pete – supervillains need to eat too. It could have been the hot dog vendor as well. Do you remember nothing from your encounter with Dr. Fly (see above)?
---
Written by Paul Jenkins
Artwork by Mark Buckingham
Inks by Wayne Faucher, Colors by Transparency Digital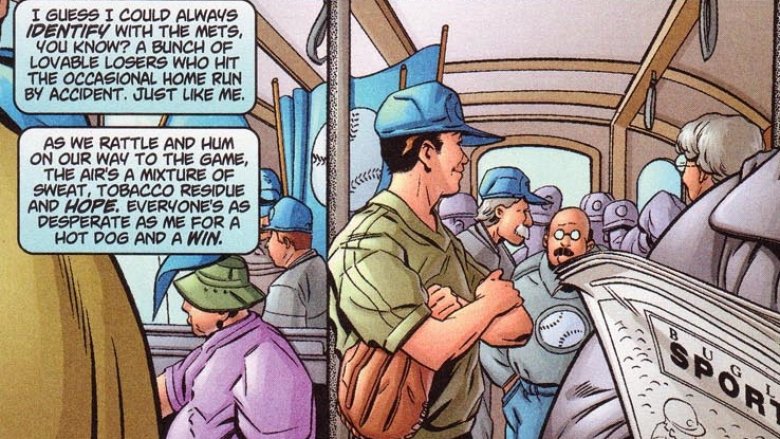 Chef's Note:  Well, its the Mets, so it's unlikely a win will happen. Which frustratingly enough, is also what happens with Peter having a hot dog in this comic. Do we ever get to see him eat one?
No. No, we do not.
Not cool, Mr. Jenkins.
---
Written by Jeph Loeb
Artwork by Tim Sale
Colors by Steve Buccellato

Chef's Note:  While there is no actual eating of hot dogs in this scene, I found it worth noting that, even when hot dogs are not physically present, they are still on Peter's mind.
---
Written by Brian Michael Bendis
Artwork by Mark Bagley
Inks by Art Thibert, Colors by Transparency Digital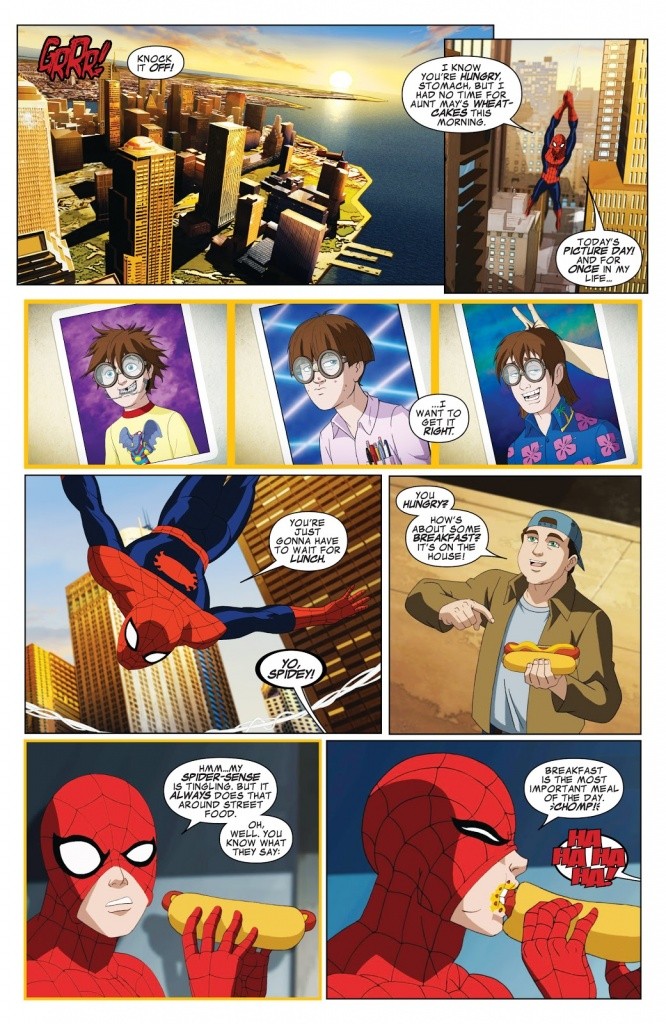 Chef's Note:  I like that Loki notes that spitting in another person's food is beyond the pale even for one as notorious as the God of Mischief.
'You are what you eat' emerged in English in the 1930s. That's when the American nutritionist Victor Lindlahr, who was a strong believer in the idea that food controls health, developed the Catabolic Diet. That view gained some adherents at the time and the earliest known printed example is from an advert for beef in a 1923 edition of the Bridgeport Telegraph, for 'United Meet [sic] Markets': "Ninety per cent of the diseases known to man are caused by cheap foodstuffs. You are what you eat."

In 1942, the phrase entered into the public consciousness when Lindlahr published You Are What You Eat: how to win and keep health with diet. Lindlahr is likely to have also used the term in his radio talks in the 1930s to 50s (now lost unfortunately), which would also have reached a large US audience.

The phrase wasn't much used in the years after Lindlahr stopped his radio broadcasts in 1953 but got a new lease of life in the 1960s hippie era. The food of choice of the hippie champions of the 'you are what you eat' idea was macrobiotic whole-food and the phrase was adopted by them as a slogan for healthy eating.
---
Written by J. Michael Straczynski & Fiona Avery
Artwork by John Romita Jr
Inks: Scott Hanna, Colors: Matt Milla
Chef's Note:  Still my favorite out of all these.
---
Written by J. Michael Straczynski
Artwork by Ron Garney
Inks by Bill Reinhold, Colors by Matt Milla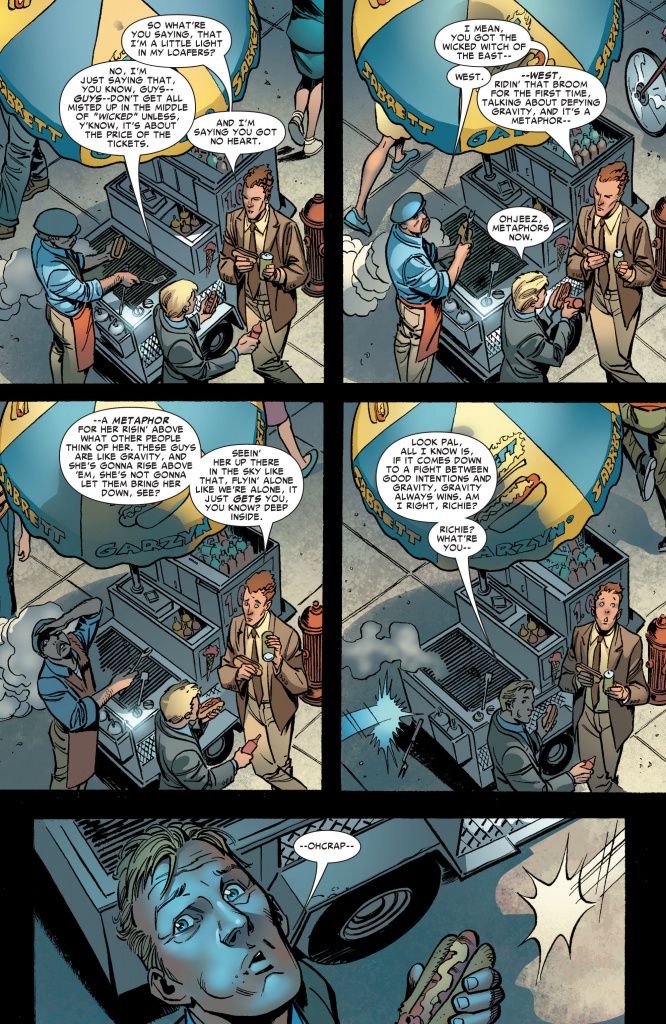 Chef's Note:  Again with the food crime! Here we see Peter completely demolish an innocent Sabrett's hot dog cart. Does Peter apologize or try to make amends? No, he does not. He gets in a big stupid fight with Iron Man instead.
Not cool, Peter. That guy has a rental agreement for that cart that he is now on the line for. Do you know how much a hot dog cart costs?!
---
Directed by Sam Raimi
Screenplay by Alvin Sargent
Written by Alfred Gough, Miles Millar, Michael Chabon
Starring Tobey Maguire
Chef's Note:  Previously…
The other day we noted that superheroes often must forgo many things, even a lunch-time hot dog, should the call of duty arise. Here we see the counterpoint.
---
Written by Tom Beland
Artwork by Kano
Colors by Javier Rodriguez

Chef's Note:  It is comforting to see that Peter does not always simply steal a hot dog when he wants one. Then again, maybe it's just because Steve is there – no one wants to look bad in front of Captain America.
Chef's Note:  Perhaps I'm being unreasonable, but I just don't think webbing would make a good condiment on a hot dog. Call me picky.
---
Written by Brian Michael Bendis
Artwork by Terry Dodson
Inks by Rachel Dodson, Colors by Jason Keith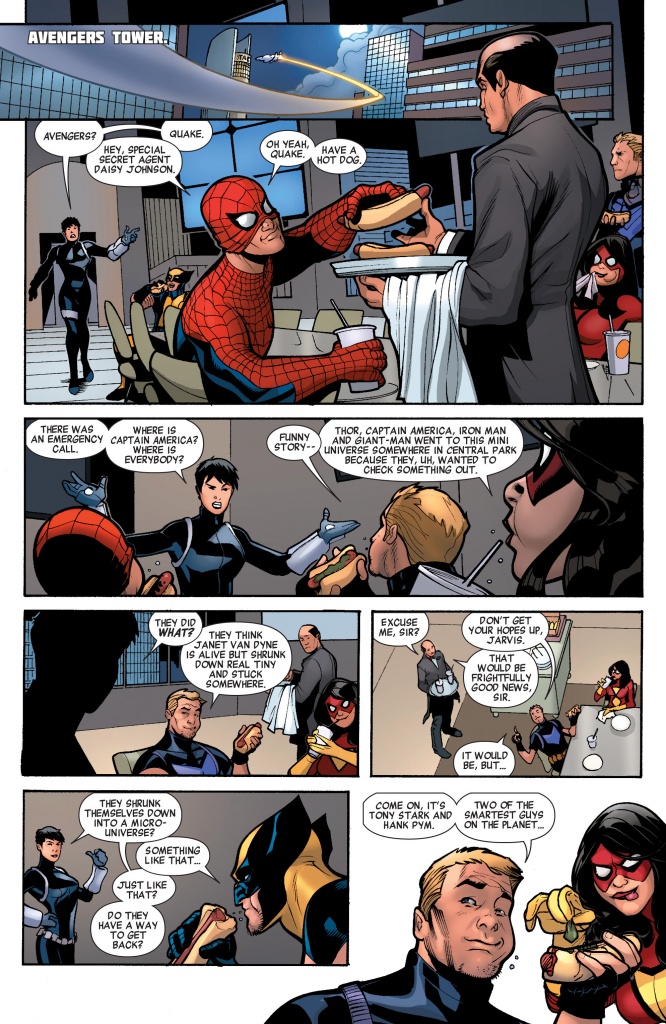 Chef's Note:  The main thing to note here is that Jessica's face in every single panel is hilarious.
Chef's Note:  Along with, of course, more blatant food theft. What exactly is she stealing from Clint's hot dog? I'm going to go with "green bits".
---
Written by Brian Reed
Artwork by Mike McKone, Rob DiSalvo, & Derec Donovan
Colors by Chris Sotomayor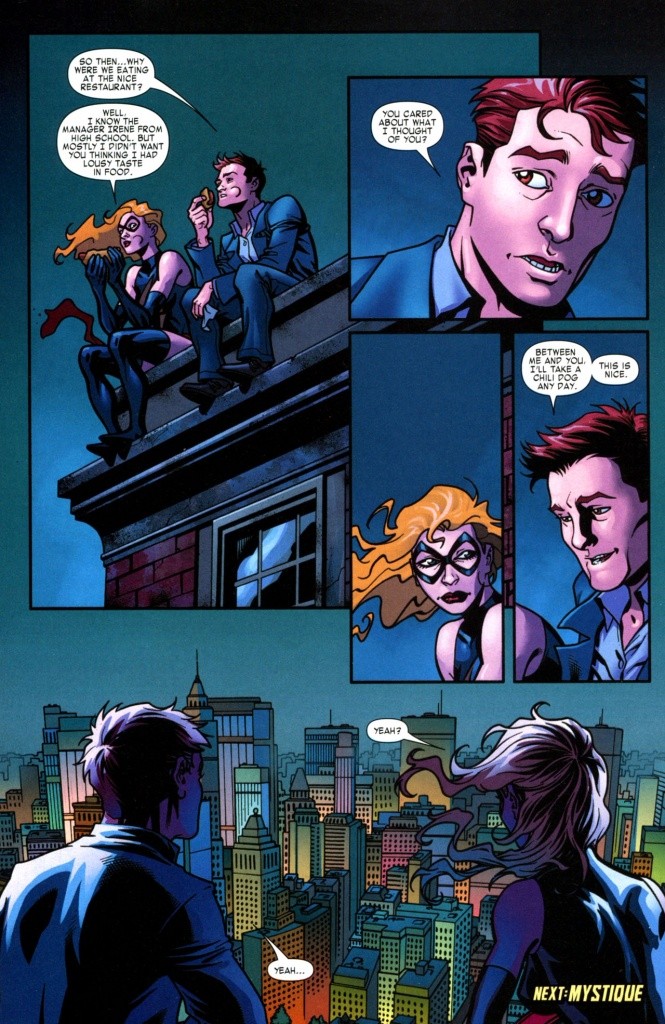 Chef's Note:  It is impressive that Peter instantly knows which hot dog cart is the better choice given their current location. Of course, given his hot dog obsession and his constant patrols of the city, it is likely that Peter knows more about hot dog vendors than anyone else in NYC.
I think this presents an excellent opportunity/excuse to add some new lyrics to his signature song! If for other reason than to use the term "
street meat
".
He knows the dogs
On every street
Says chili dogs at Jake's
Are the best street meat
---
Written by Jonathan Hickman
Artwork by Nick Dragotta
Colors by Paul Mounts

Chef's Note: Here is a charming scene where Peter strong-arms a child into buying him a hot dog, and then proceeds to make him sad by telling the Uncle Ben story again.
I'm beginning to think J. Jonah Jameson may be right.
---
Written by Dan Slott
Artwork by Humberto Ramos
Inks by Carlos Cuevas, Colors by Edgar Delgado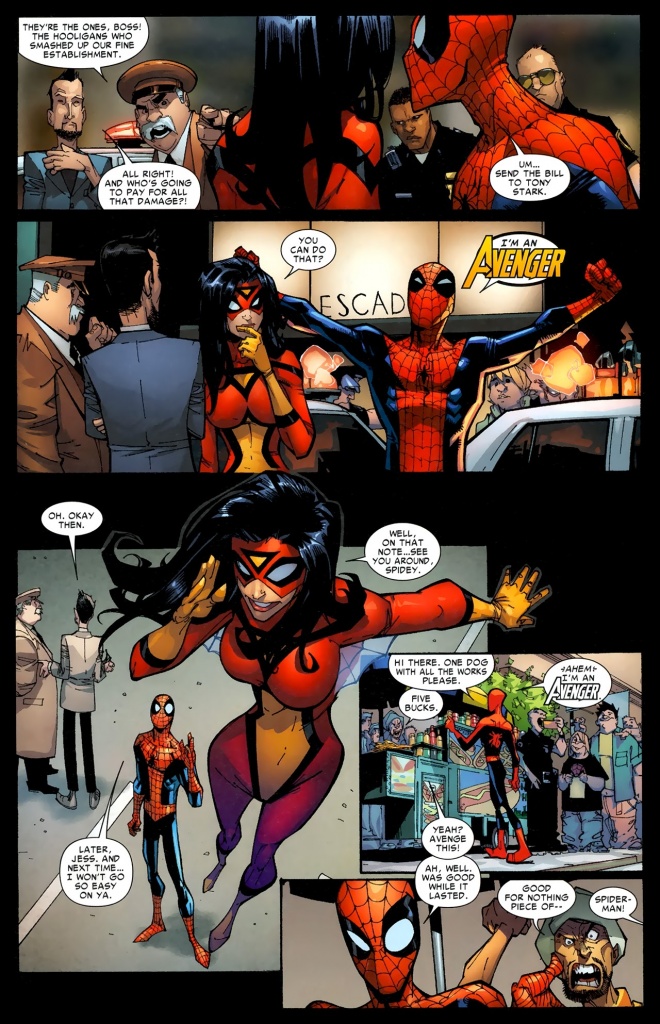 Chef's Note:  Yet another food crime! Here we see Peter attempt to use his Avengers membership to try to get a free hot dog. First of all, that hot dog vendor needs to make a living, Peter, and he's not going to do so handing out free dogs every time one of any of the many dozens of Avengers happens to chance by. Second of all, I believe that's called Misuse of Position and is an actual crime-
An employee may not use his official position, including information learned by virtue of his position, for his personal benefit or for the benefit of others.

An employee may not use his public office for his own private gain or for that of persons or organizations with which he is associated personally. An employee's position or title should not be used to coerce; to endorse any product, service or enterprise; or to give the appearance of governmental sanction.
---
Written by XXX
Artwork by XXX
Inks by XXX, Colors by XXX
---
Written by John Barber
Artwork by Todd Nauck
Colors by Rachelle Rosenberg

Chef's Note:  Ah, nitrates! As deliciously salty as they are carcinogenic!
According to the PCRM and others, such as Duke University, the dangers are real and significant. Eating a hot dog every day can increase your risk of colorectal cancer by 21 percent. That's as bad for you as smoking. And while EHSO has been warning consumers about the scientific correlelation and likely causal relationship between processed meat consumption and colon cancer, in 2015, the World Health Organization's cancer research arm on Monday declared processed meat a carcinogen, in an announcement that the Washington Post decrsibed as alarming "bacon lovers and sent the beef industry into a furor".
---
Writing, artwork, and colors by Chip Zdarsky
Chef's Note:  Previously…
The particular scene presented here offers up a host of ethical and philosophical questions: What is the responsibility of those with power? Is meaning a matter of essence or form? What is a human life worth? What are the limits of gratitude? Can you call a cake a cake without icing?
---
Written by Phil Lord & Rodney Rothman
Directed by Bob Persichetti, Peter Ramsey, & Rodney Rothman
Starring John Mulaney as Spider-Ham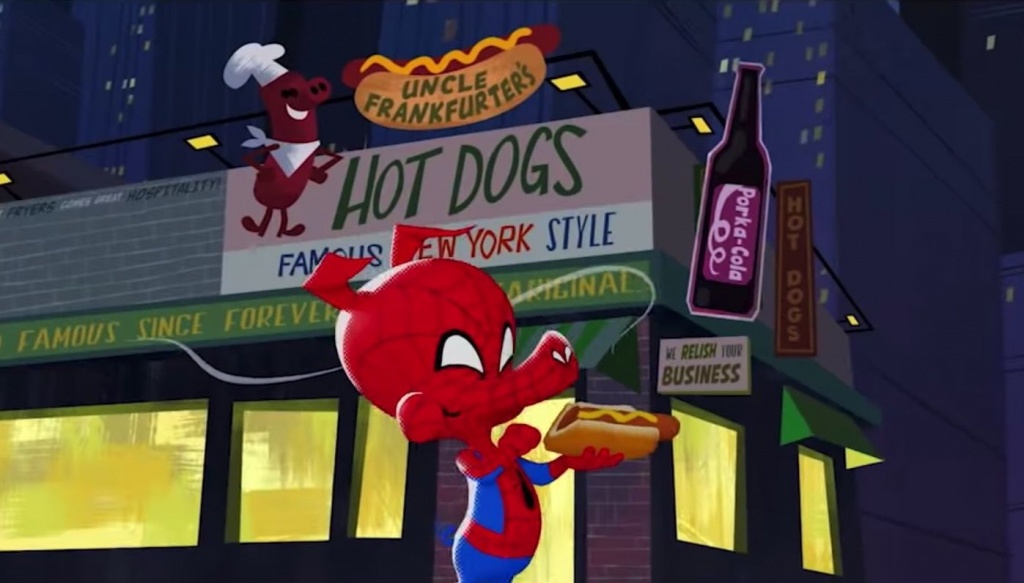 Chef's Note:  When this prequel came out, many were quick to note that Peter Porker was chomping down what appeared to be a normal hot dog. As pork is a common ingredient in a lot of hot dogs, people then asked the worrying question: "Is Spider-Ham a cannibal?"
Luckily, the producer of the clip was quick to clarify:
---
Written by XXX
Artwork by XXX
Inks by XXX, Colors by XXX
Chef's Note:  It's a bit hard to tell what's going on here. Is Peter Porker also stuffing a hot dog into his face like Peter Parker is doing? Or is he trying not to vomit, because Peter Parker is scarfing down probable pork product? The dog seems confused as well, do I don't think it's just me.
At least it appears that Peter actually paid the vendor this time.
---
Variant Cover Artwork by ???
Any info is appreciated.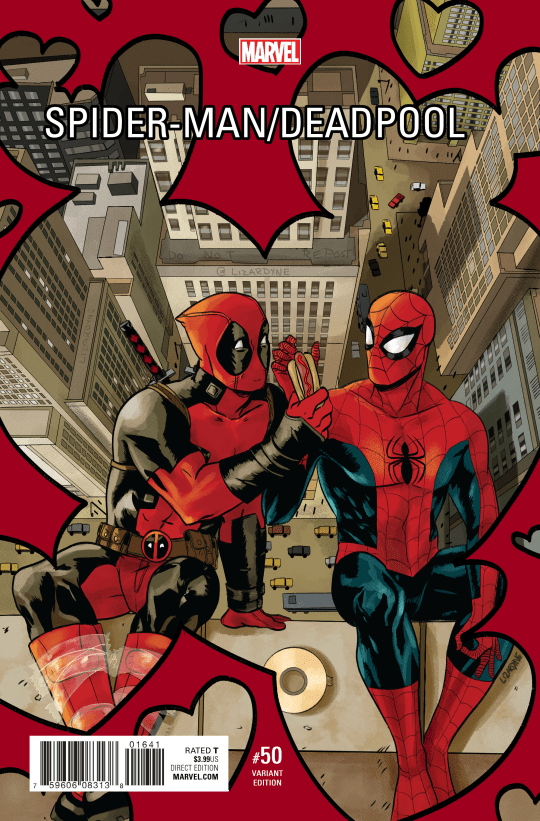 Chef's Note:  At first glance, this is just such a sweet scene – Wade offering Peter his favorite food. Aw.
But then suddenly one notices the perspective and what the? Apparently, Peter can cling to surfaces with his… buttocks? That's a new one on me. And then you see the roll of tape and realize Wade has taped his lower legs to the ledge. Did he do that all while holding a hot dog? That is true love indeed.
---
Written by Seanan McGuire
Artwork by Takeshi Miyazawa & Rosi Kämpe
Colors by Ian Herring

Chef's Note:  Here we discover that Peter, noted junk food junkie, apparently is a bit of snob when is comes to hot dogs. Although, he is not incorrect that corn dogs are carny food-
Corn dog lore has it that George Boyington, a concessions vendor serving tourists in Rockaway, Ore., hit a breaking point over Labor Day weekend in 1939 when the rain ruined his stock of hot dog buns.

Boyington was a reformed bootlegger who had spent years smuggling liquor into Michigan from Canada; he'd moved to Oregon to clean up his act. As he fed the scraps of his ruined buns to the seagulls, he bemoaned his plight. If only there was a way to cook buns on the spot, as they're needed.

That spark of an idea grew, and thus, the corn dog was born — a deep-fried solution that was portable for vendors and pleasing to taste. "Dun in a bun," the early slogan promised. Boyington dubbed it the Pronto Pup for the speed of the cooking process.

Boyington and his wife, Versa, trademarked the Pronto Pup name in 1942, and began selling franchises of the carnival treat.